Why the Þórsmörk hike in Iceland should be on every hiker's bucket list?
3 minute read01 Mar 2019
If you're someone who gets excited by the mere mention of hiking, Iceland is the best place for you. Period. It is a stunning country not just for sightseeing but most prominently for hiking. The popular Icelandic Highlands have hiking trails for almost all types of hikers. Of course, you can witness the beauty of those rugged mountains and white glaciers by driving around the country but hiking in Iceland would be a phenomenal way to really soak in the breathtaking views of this magnificent Nordic country.
Amongst one of the most popular hikes in Iceland, Thórsmörk hike, with its bright green mountain valley, braided glacier rivers and of volcanic glaciers, is too heavenly to be real. Offering a lush wilderness tucked between the glaciers in the Southern Highlands, every hiker must have Thórsmörk (Þórsmörk) on their bucket list. This particular trail in Iceland is highly discussed and recommended. And, when you do get to see it, you will admit that it lives up to its name and absolutely worth the hype! It is located around 150 km from Reykjavík between glaciers Tindfjallajökull and Eyjafjallajökull.
1. History of the Thórsmörk hike
Thórsmörk was designated as a natural mountain reserve after the eruption of Katla in the year 1918. It is now identified by its impressive gorges, beautiful ravines and vegetation that is unique to that region. The real Þórsmörk is considered to be the stretch between the Krossá, Þrönga and Markarfljót rivers. However, many people mention Thórsmörk when they speak of a much wider radius around this point. It is indeed very fascinating how Thórsmörk got its name. It has connections with Norse mythology and the Norse God Þór (Thor), the Thunder God with the famous hammer (Mjölnir). Therefore, the name translates to Þór's wood, a very fitting name for this green and gorgeous valley.
During olden times, the farmers who resided in Fljótshlíð would bring their herd of sheep around this area as the climate was favourable. In 2010, after the sudden eruption of the Eyjafjallajökull glacier volcano, more hikers ventured towards it to discover the newly formed volcanic craters called 'Magni' and 'Móði' named after Thor's sons, meaning 'brave' and 'strong'. The given names seem to be perfect for these new craters as they are found exactly above the Thor valley. You can also find many fascinating natural rock formations such as Snorraríki, Sóttarhellar Cave, Álfakirkja, Stakkholtsgjá Gorge and the stone arch in Stóra Enda.
There are many marked hiking trails in the area for day hikes, and Þórsmörk is also the starting point of two multi-day hikes. If you're a super adventurous hiker, you can hike.. wait for it.. to the hike! There are two trails namely Fimmvörðuháls and Laugavegur that lead you directly to Thórsmörk from Landmannalaugar or vice versa. If you start the Laugavegur hike from Þórsmörk it is on foot and therefore more challenging. A hike over the Fimmvörðuháls mountain pass to Skógar. is considered to be rather a difficult hike and not for beginners because this is a very steep trail. Some hikers take this all the way and start in Skógar, hike over Fimmvorðuháls mountain pass, camp in Þórmörk for two to three nights and head onward to Landmannalaugar on the Laugavegur trail. This may be the ultimate mountain hike for the experienced hikers. Nevertheless, you can tailor make your hike and however you choose to do it, you will be mesmerized along the way by the enchanting natural beauty that is dramatic yet so serene.
2. Preparing for hiking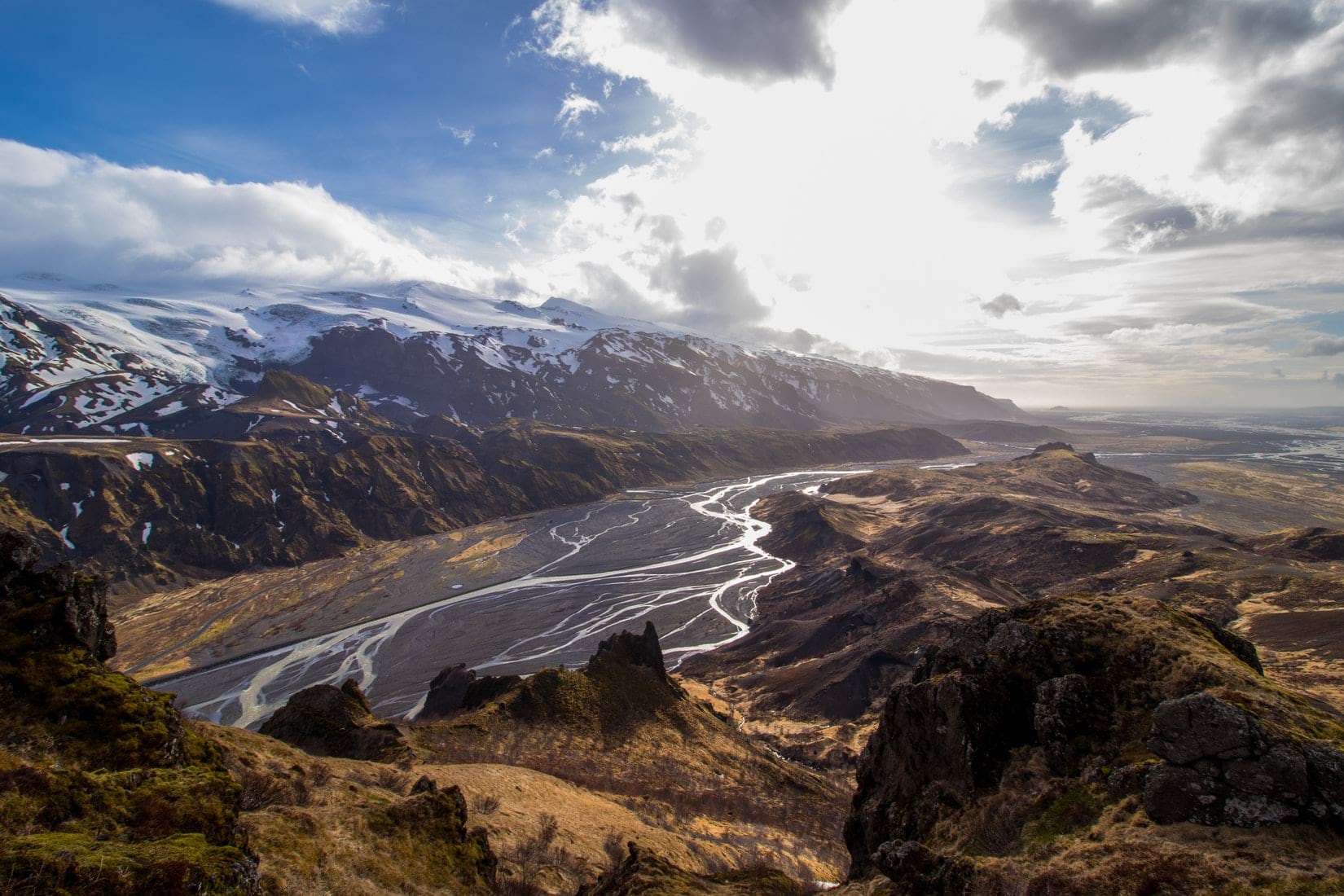 You might be experienced but do not take this hike lightly. It is a fairly difficult trail and being well-equipped with all the essentials such as clothing, hiking gear etc. is mandatory. Buy appropriate clothing to be well-layered to beat the temperature. In Iceland, the temperatures can change very quickly, hence, always be prepared for all seasons. Invest in a good pair of hiking boots. They must be waterproof, worn in and have good ankle support. If you are planning to hike for more than a day, don't forget to pack these:
Clothing: Waterproof shell jacket and trousers, fleece, thermals, down jacket, hiking trousers, gaiters, T-shirts, thick woollen socks, indoor shoes and sandals with strong straps/ neoprene boots and thermals (top and bottom).
Necessary items: Walking poles, head torch, thermos flask, first-aid kit, sun protection, sleeping bag and tent, GPS navigation tools, gadgets and power banks.
3. Best time for hiking in Thórsmörk area
It is not recommended to hike mountain trails in Iceland in wintertime due to remoteness and fierce weathers. Summer is the perfect time for all hikes in Iceland and that includesThórsmörk. Bear in mind that this area is only open for hikes during summer which is between the months of mid-June to mid-September. July and August are safest for hiking as the days are longer and the weather is pleasant and comfortable. The temperature in the highlands is somewhere between 7-15°C and the wind speed, precipitation, and storm frequency are much lower than the other months of the year. The landscapes are in their full form with green pastures and Arctic flowers blooming. Both locals and tourists set out to explore the gorgeous summer in Iceland.
4. How to reach Thórsmörk
There are quite a few ways for you to reach Thórsmörk, but the road to Þórsmörk is an F-marked road so it is not passable on normal rental cars. You will have to rent a 4×4 with suitable insurance cover and have special driving skills in order to cross the river. The volume of the water is unpredictable and smaller vehicles might not be able to sustain its force. The simplest way is for you to buy a bus passport online so that you can hop on and off the bus based on where you want to start hiking.
Thórsmörk, in recent times, has been flocked by tourists after the seventh season of TV series, Game of Thrones came out. The Stakkholtsgjá Canyon, situated inside Thórsmörk was used as one of the filming locations. Spoiler alert: The scene where Jon Snow tried to capture Wight in order to prove that the white walkers exist was shot in the canyon.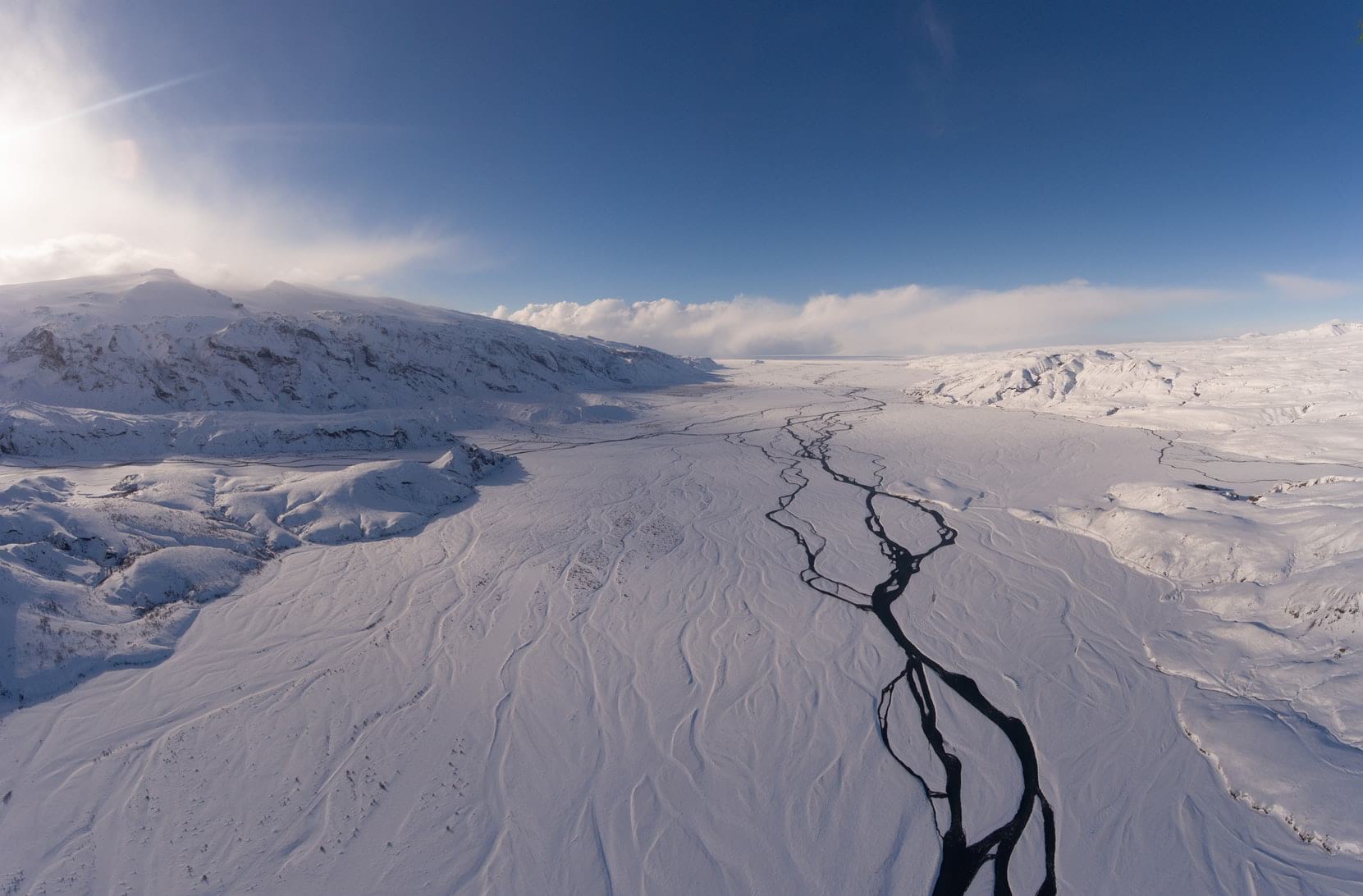 People hike for many reasons: to experience the outdoors closer to nature, to find inner peace, to stay fit or to see where their favourite TV shows and movies were filmed. Whatever be the reason, hiking amidst the wilderness, untouched beauty of the mighty mountains and gorgeous waterfalls is sheer happiness.
Take your time to hike across Thórsmörk. To get there, we suggest you purchase a bus passport from Iceland By Bus. It is a hop on and off service that will take you to the starting point of your trek. So, what are you waiting for? Summer is right around the corner. Get cracking on your plan to hike in Thórsmörk!