Guide to Landmannalaugar - A geothermal paradise in Icelandic Highlands
3 minute read08 Apr 2019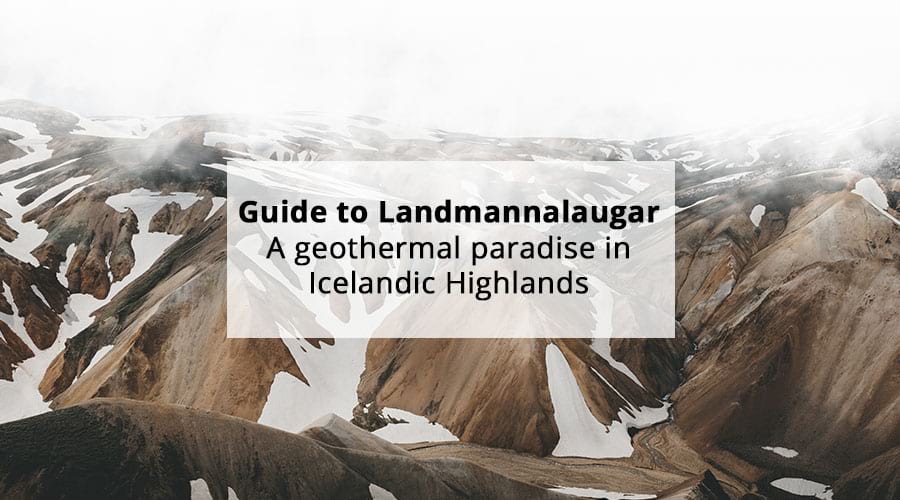 You must have heard of the stunning Icelandic Highlands and the gorgeous panoramic views that it offers. If you are a hiking enthusiast, then these Highlands will easily make it to your list of top ten places to go hiking across the world. No doubt. But did you know? The Icelandic Highlands houses one specific area of vast beauty and exotic variety of landscapes. Landmannalaugar, otherwise known as the People's Pool due to the presence of many natural geothermal pools, is located in the heart of the Highlands and it is a popular destination for nature lovers and hikers.
Search for some pictures of Landmannalaugar online and you will be convinced that it is a place that simply cannot be missed. The nature and surroundings that you experience here, you will not experience anywhere else in the world. You can find this dramatic region beside the black Laugahraun lava field which was originally formed in an eruption in 1477. The region is dotted with rhyolite mountains sporting a spectrum of dazzling colours such as red, pink, green, blue and golden yellow. All these gorgeous landscapes converge to give you some jaw-dropping scenery that will stay in your memory forever.
Landmannalaugar is found at the northern end of the Laugavegur, one of Iceland's most prominent hiking trails. If you take this hiking trail, it will connect Landmannalaugar to the fantastic Þórsmörk and finally ending at the fantastic Skógafoss waterfall. There is a hiking trail for every single person based on their experience and level of fitness. Depending on the amount of time you want to dedicate here, you can choose your trails accordingly.
Landmannalaugar attractions

1. Hot springs
Landmannalaugar is the hub for geothermal activity in Iceland. The naturally warm pool serves to be an ideal bathing area all year round as the water's temperature stays between 36–40ºC (96.8–104ºF) even in peak winter. If you head to the edge of the Laugahraun lava field, you will notice several hot water streams popping up making for an excellent view. For many years, the natural hot springs found in the region served as an area to relax and rejuvenate tired hikers and travellers who would take a soak in the soothing water of the hot springs and freshen up for the rest of their trail. Always carry a bunch of towels and swimwear in case you bump into a hot spring along with your trail.
2. Day Hikes
There are many day hikes available but there are two exotic hiking trails that you must check out if you're a fan of divine beauty.
Laugahraun lava field: Formed in the 14th century, it starts near the northern point of the campsite and offers you some fascinating views as you get closer to Mt. Brennisteinsalda. You will be able to spot steaming fumaroles exiting the vents near the Brennisteinsalda base. It is believed by the locals that the lava is home to some hidden creatures such as trolls and elves. Now, it would be fascinating to encounter one of them, don't you think? The odd yet intriguing rock formations create a gorgeous hiking trail that will transport you to an entirely different world. It is an easy hike with very little elevation gain. At a consistent pace, you should be able to finish the hike in about 2 hours.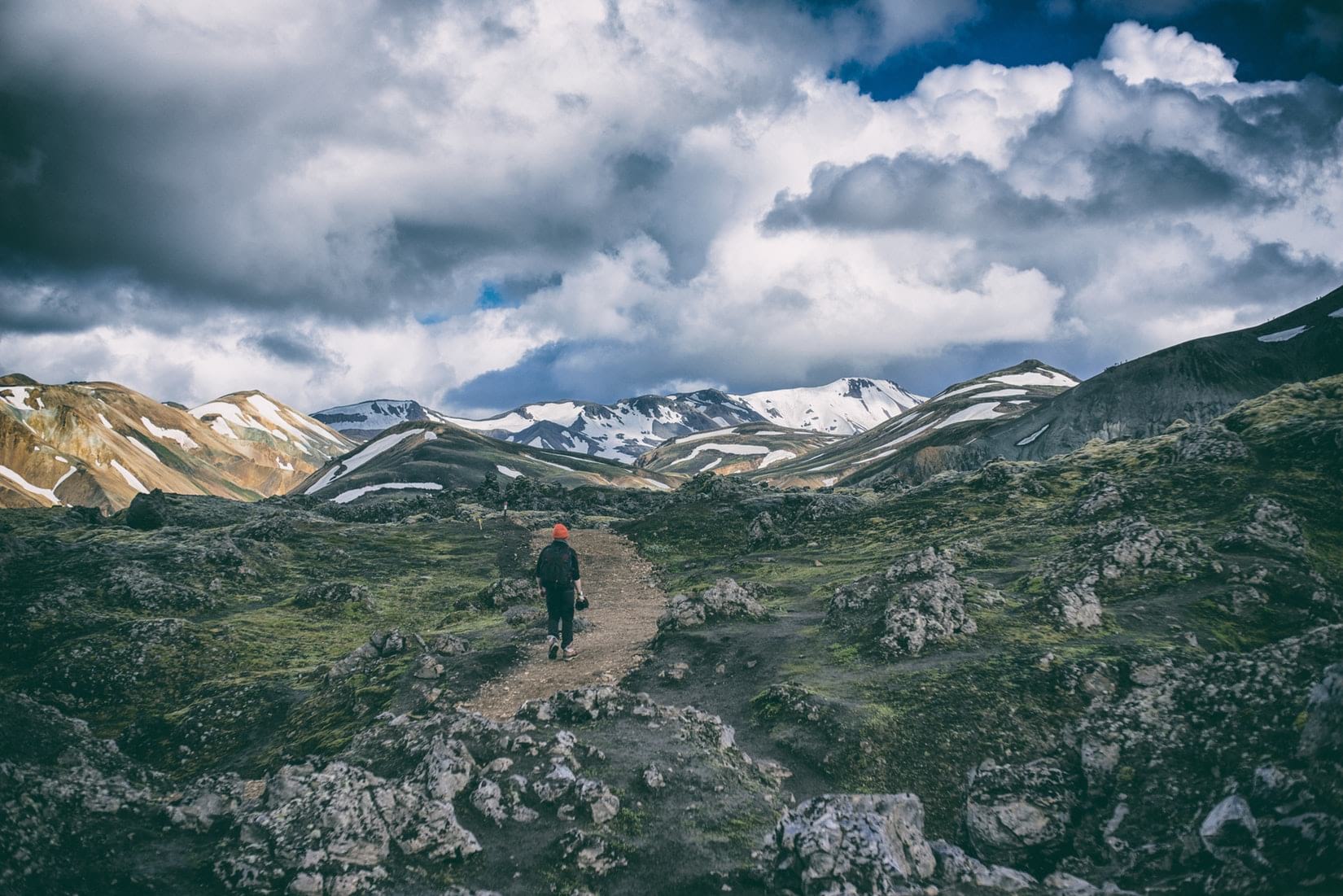 Mt Bláhnjúkur: This hike takes you up the Bláhnjúkur mountain which translates to Blue Peak. It stays true to its name by flaunting the shimmering blue-black colour on the sides. Once you get to the top of the hike, you will not believe your eyes. The mountain rises from a bed of lava and ashes that were a result of surrounding volcanoes. You can also get a 360-degree view of the Laugahraun Lava field and the rhyolite peaks around it. You can then proceed to get back to the campsite. The entire trek is around 5 km and will take you 3 hours to finish, provided you do not stay at the top for too long (which is unlikely).
How to reach Landmannalaugar
The road you will be taking to Landmannalaugar is as beautiful as the location itself. It crosses several mind-blowing natural vistas like the Bláhylur lake hidden in the folds of a dormant volcanic crater. While looking at the map, you might think that getting to Landmannalaugar via Ring Road is pretty straightforward but that is far from reality. The roads are not completely paved and are obstructed by many river crossings. You need to be an excellent 4x4 driver if you want to get to Landmannalaugar safely. It is not advisable to self-drive due to the uncertainty of the weather and the rugged roads that might be a bit too hard to handle even for comfortable, frequent drivers. Additionally, if you have to rent a car, there are rules against crossing rivers or driving into the water.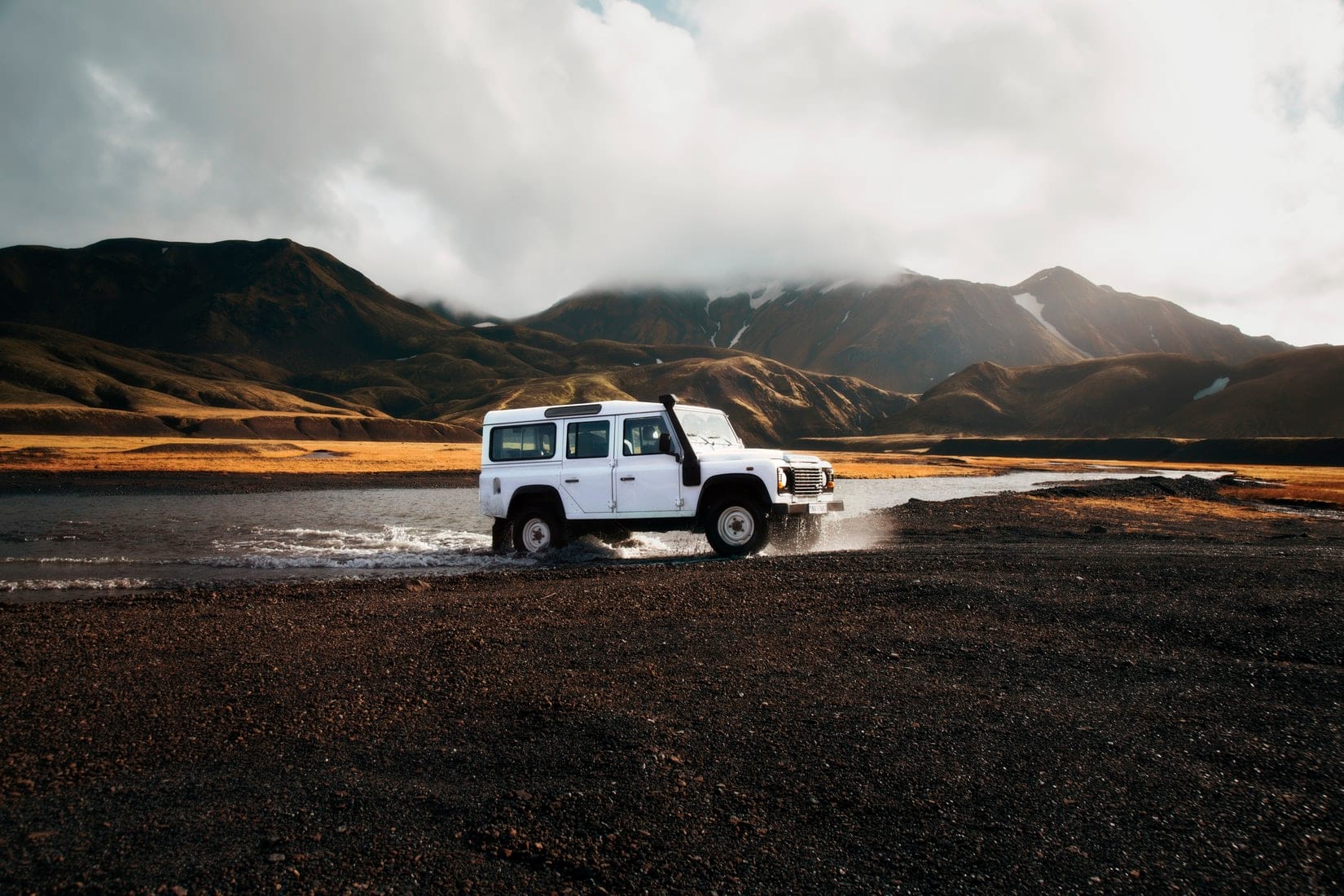 Another option is taking the bus as there are quite a few buses that run along that route frequently. The roads are open only in summer between mid-June and mid-September. The simplest way for you to use a bus transfer is to get yourself a bus passport to a hop on and off bus service running along the route. You can board the bus from Reykjavik and get off at Landmannalaugar in just 6 hours. Check out the bus schedule here.
Best time to visit

If Landmannalaugar is in your list of places to visit in Iceland, plan your trip during the summer. The roads leading to this magnificently beautiful part of the Southern Highlands is closed around the year except between mid-June to mid-September. So, what are you waiting for? June is just around the corner! Get ready to stand amidst the tall rhyolite mountains, soak in natural hot springs and stare at the beautiful blue peak! Book your flight tickets to Iceland and get your bus passports to visit the extraordinary region of Landmannalaugar. Find out more about our Landmannalaugar single tour here.