6 best hiking trails in Iceland that you definitely need to explore!
5 minute read08 Feb 2019
Picture this. You are in the midst of colourful mountains, rugged glaciers, majestic waterfalls, black sand beaches and blazing volcanoes. Sounds like a crazy dream? Would you believe if we were to tell you that it all exists in reality? Well, you best believe it as this heaven is in Iceland.
There is nothing better than exploring Iceland on foot. It helps you discover the true, raw and mysterious beauty of it. Many travellers have dubbed hiking in Iceland as one of the most amazing experiences of their lives. The splendid views will leave you captivated and wanting for more. Depending on your preferences and fitness level, you can opt for shorter hikes or go for multi-day treks.
To all the adrenaline junkies out there, read on to find out how you can satisfy your need for thrilling adventures.
Before we talk in detail about the hiking tours of Iceland, pack your backpack with the following hiking equipment if you are planning a multi-day hike:
Sleeping bag, a lightweight tent, mattress and a primus

Something to eat

A GPS device and a torch for safety

Warm wool underwear and a fleece jacket

Water & windproof Gore-Tex jacket and trousers

Hiking shoes (preferably used) & warm walking socks

Gloves & a cap

Light shoes/trainers & walking sticks for crossing the rivers

Swimsuit and a towel

Sunglasses & sun protection

Plaster & ointment for blisters
Now that you have ticked off your checklist, you are all set for hiking. Here's our list of the 6 best hiking trails in Iceland.
1. Landmannalaugar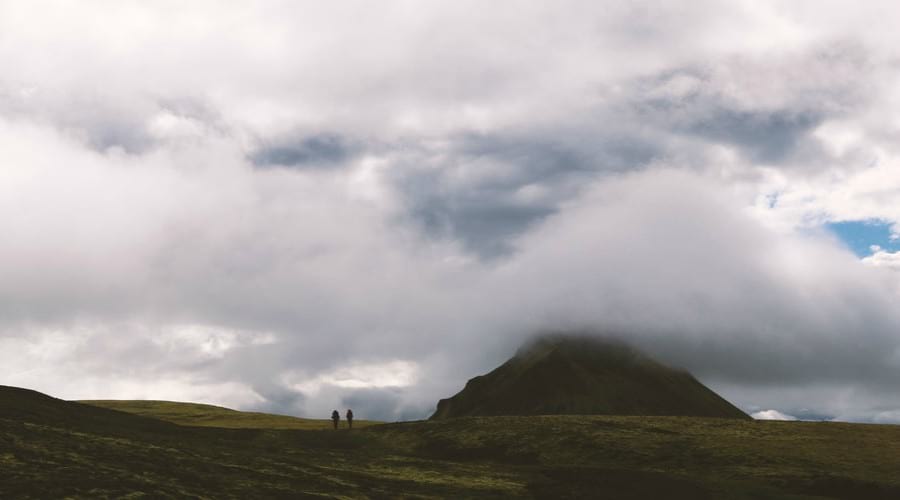 Landmannalaugar Trail
At the top of our list is the Landmannalaugar hike – home to the 55 km long Laugavegur trail -known as the best hiking trail in Iceland and possibly one of the best in the world. Do not confuse this trail with Laugavegur shopping street in Reykjavík. You can use the small towns of Hella or Hvolsvöllur located on the ring road in South Iceland as a base before taking this hike.
Landmannalaugar is a place situated at Fjallabak Nature Reserve in the Highlands of Iceland. It is at the edge of the Laugahraun lava field, which was formed as a result of an eruption around the year 1477.
Landmannalaugar looks something straight out of a fantasy. Dotted with steaming hot springs and lava fields, it is a marvellous sight to behold. Some of Iceland's most active volcanoes are close by the trail. The trail has been aptly named as 'Laugavegur' which translates to 'Hot Spring Route'. It is a walk through fire and ice as the entire expanse is covered with ash black, moss green and snowy white patches.
2. Þórsmörk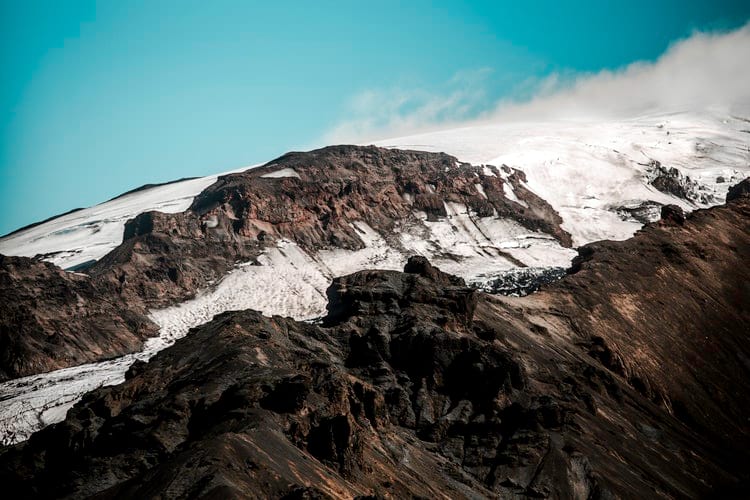 Thórsmörk Trail
The Laugavegur trail reaches its culmination at Þórsmörk. Thórsmörk i.e Þórsmörk in Icelandic is a mountain ridge that was named after the Norse god Thor(Þór). Þórsmörk is a hikers' heaven and a hit with photographers and nature lovers as it paints a contrasting picture of lush oases, roaring glacial rivers and black mountains.
Another major reason behind its popularity is that it has been designated as a Natural Mountain Reserve, a part of Katla Geopark. The place boasts of amazing flora and fauna. You could also get to see cute arctic foxes.
Þórsmörk is also the start of 30 km long Fimmvörðuháls hike. It passes by the new volcanic craters, Magni and Módi, that were freshly formed in 2010. The hike ends at the famous Skógar waterfall.
3. Skógar
Skógar
Hike around Skógar, a small place dotted with farmsteads. Skógar literally means forests. It located to the south of the Eyjafjallajökull glacier. It boasts of several spectacular waterfalls. But the most popular is the Skógafoss waterfall on the Skógá river. It is one of the highest and most beautiful waterfalls in Iceland. Skógar also has a folk museum and a museum on transport. You can rest at Skogar campsite by the Skógafoss waterfall for an unforgettable camping experience.
4. Seljalandsfoss
Seljalandsfoss
After visiting Skógar, you can embark on the Seljalandsfoss hike. This trail will lead you to theSeljalandsfoss waterfall situated on the South Coast of Iceland – having its origin in the Eyjafjallajökull glacier. The best feature of Seljalandsfoss is a pathway that stretches all the way around it in the summers. Be sure to grab a raincoat as you would get soaking wet. On a sunny day, you can also capture a rainbow over the waterfalls making it even more picturesque. A mere 10-minute walk from Seljalandsfoss, you can visit Gjúfrabúi, a beautiful waterfall hidden behind a huge cliff that faces out towards the South Coast. It is an excellent destination that is overlooked by many hikers. So don't miss out on it.
5. Skaftafell
Skaftafell
The Skaftafell hike takes you to Öræfi, southeast Iceland amidst glaciers and ice caves. The geographical and natural diversity at Skaftafell is truly breathtaking. A sight that you cannot miss is Svartifoss which literally means 'the Black Waterfall'. It elegantly drops 20 m (65 ft) from a crescent-shaped cliff, made up of hexagonal black basalt columns. Explore Skaftafell national park, a part of Vatnajökull National Park since its establishment in 2008. The black sand plateau, snowy glaciers, rivers and icy lagoons, volcanoes, majestic mountain peaks and vibrant floras make for an enamoring sight at the Skaftafell park.
6. Hveragerði
Hveragerði
A popular hike near Reykjavik is the Hveragerði hike. Due to the ongoing geological and geothermal activities, it is also known as 'the Earthquake Town' or 'the Hot Spring Town'.
Greenhouses flourish in Hveragerði as a result of which it is considered the centre of Botany in Iceland. The Smokey valley of Reykjadalur situated in the hills above the town of Hveragerði is also a great spot to visit. If you have a swimsuit with you, dip into the warm geothermal river and relax your weary bones. You can also trek to the commercial and industrial town of Selfoss situated between Hveragerði and Hella and rest at Selfoss campsite or choose to catch a ride and head over to Leirubakki campsite.
Pictures do not do justice to the beauty of these hiking trails. Hence, you need to have a rendezvous with Iceland and experience nature's wonder for real.
And when it comes to moving around within Iceland, Iceland By Bus comes to your rescue. With our Hop On & Off service, you can visit all the popular sights with the South Coast Bus Passport as per your convenience or choose for Self – guided tour to go on these awe-inspiring hikes with the Highland Hikers Bus Passport. The thrilling Icelandic adventures await you so book now. Immerse yourself in this fantasy land and have unique experiences that will last you a lifetime.